Should You Put Solar On Your Home?

The U.S. solar market is on pace for a record-breaking year. According to the Solar Energy Industries Association (SEIA) the U.S. will have installed nearly 8,000 megawatts of solar in 2015, and the residential market will have grown 70% year-over-year. As a result, there is now enough solar in the U.S. to power more than 4.6 million American homes!
What's behind the massive growth of solar?
Several factors are driving the ever-increasing adoption of solar, including improved technologies, falling installation costs, and a generous federal tax credit.
"These are not just solar enthusiasts anymore. The vast majority of residential installations — by a long shot — are done because solar is affordable and it's saving money."
As installers gain more experience with installing solar, they've become more efficient as well. Installations that used to take days can now be done in just hours, which has helped drive the overall cost of solar down.
How do you get solar on your home?
There are currently three ways homeowners can add solar to their home. The first is by simply purchasing the solar power system and having it installed, the second is by leasing the solar power system from a company that installs and maintains it, and the third is through a Power Purchase Agreement. Each method has its own benefits and its own drawbacks, so it's important to consider which option is best for your individual needs.
HomeSolarPrograms.com makes it easy to compare options. You just fill out a form with some basic information about your home, and a solar specialist will help you identify the top solar installers in your area. Because these installers know you're shopping around, they're going to give you their best deal right from the start, so you can avoid the hassle of haggling over the price of your system.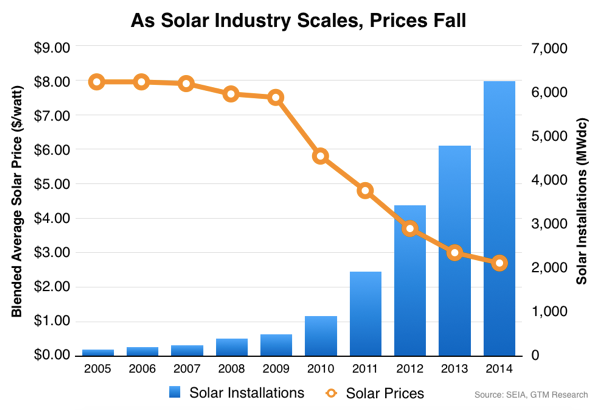 Purchasing your own solar power system typically has the highest up-front costs, but can also have the highest savings in the long-term. However, this benefit comes with the responsibility of maintenance and upkeep of the system moving forward.
Leasing helps lower the initial equipment and installation costs, and spreads the cost out over a long-term deal, similar to an auto lease. With a lease option, you'll have a fixed monthly payment, and then whatever electricity is generated by the system is yours to keep.
Power purchase agreements (PPAs) are similar to the way most people pay their electric bills today. The solar equipment is owned and maintained by a third party, and customers are only charged for the power they use. Because there are no upfront installation costs, PPAs are a very attractive option for many homeowners.
Is solar right for you?
The question of whether solar is right for you is no longer about the technology.
"Homeowners should feel comfortable that the technology itself has been proven. We have reached sort of a tipping point here with solar being very affordable, being reliable, and a clean energy source."
As with any major home improvement project, you should get bids from multiple installers, and compare the options. Your savings depend on how much you're paying for electricity now, and what programs and incentives are available in your area.
How do you find these solar incentives?
HomeSolarPrograms.com, one of the country's largest and most reputable solar comparison websites, is one of the few companies with all top solar installers in its network, and is currently helping homeowners like you find out what solar programs and incentives are available. We can help connect you with the top solar companies in your area, who will provide free solar quotes with all available incentives included, so that you can choose the best one.
The average monthly savings for most eligible Americans is $93 (that's $1,116 per year!) and many homeowners not only save money now, but depending on their current utility rate plans, they can save even more in the future when rates increase.
It just takes a quick consultation with a solar specialist to find out if your home is a good candidate for solar, and there are no fees or obligations with these types of consultations. You have nothing to lose except your energy bill – while the incentives last!